Luck of the Lion
The Realms has a very long tradition of gambling. This started decades ago in the 980s as games of poker were played in dusty taverns and the Gambler's Guild first formed behind veils of secrecy and tradition. However, as the community aged so as well did the formality and the professionalism in the way we play games of chance. Proper casinos with traditional table games first started to appear in the early 1000s and since that time have only become more refined and more impressive. It is rare these days that there is a feast or other social event that doesn't make room for a casino for its patrons.
Lord Aeston, a member of the Gambler's Guild himself, had the thought of adding something new to the casino culture of the Realms. For decades the traditional table games have been played at Realms Casinos, Blackjack and Let it Ride most often, but there was nothing that was wholly unique to the culture of the Realms. Therefore, he took it upon himself to design a new game, very much inspired by his favorite table game, Craps. And of course he themed it after the heraldry of Rhiassa when he did so. He named it Luck of the Lion.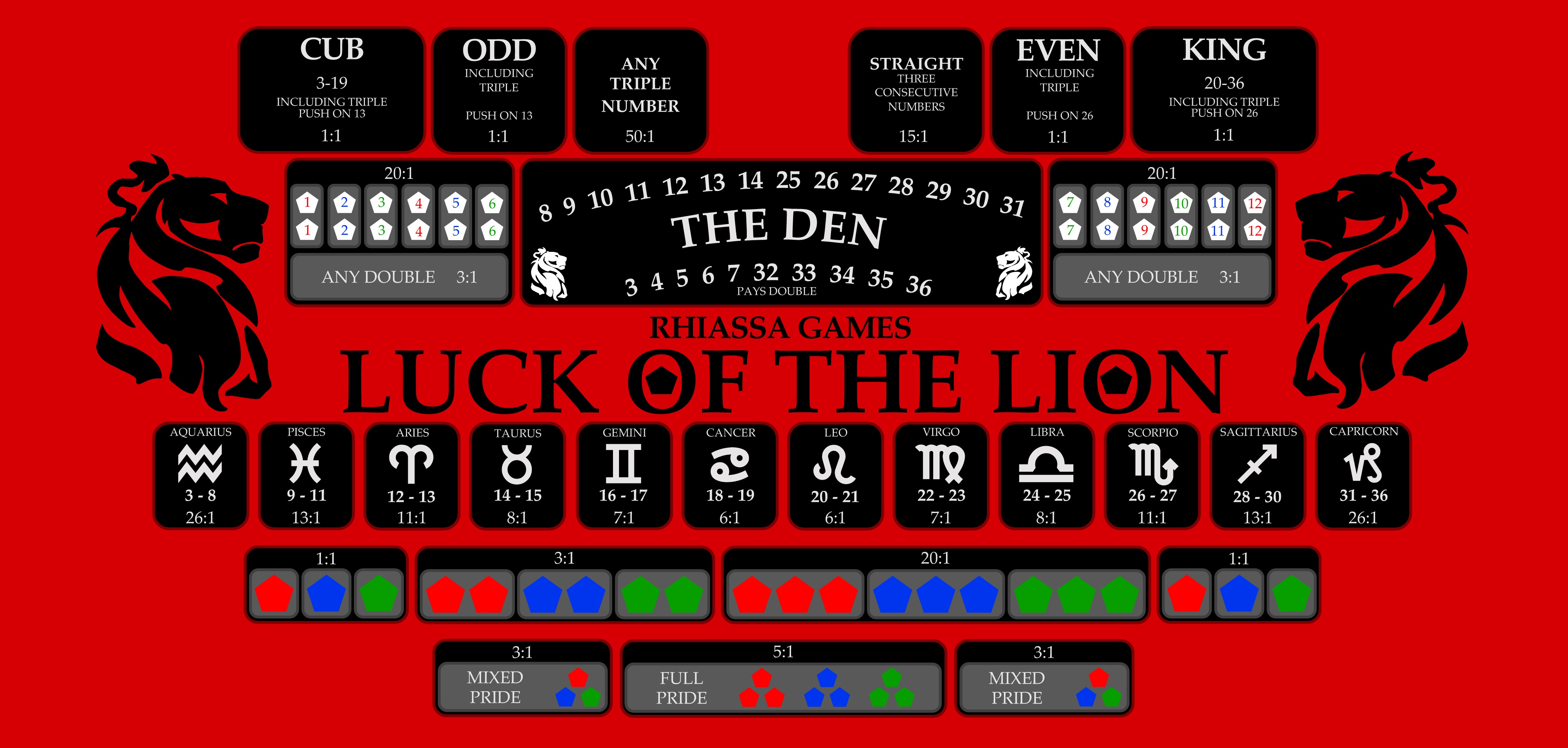 An image of the Luck of the Lion Felt. Click to open large scale version.
Luck of the Lion is a dice rolling game that uses three 12-sided dice that have numbers in three colors. The dice are numbered 1-12. The 1, 4, 9, and 12 are red, the 2, 5, 8, and 11 are blue, and the 3, 6, 7, and 10 are green. The dice are rolled by being placed, by the dealer, into a dice tower with a tray on the bottom. Bets are placed as in craps. Before the roll. Players place their chips on the felt wagering on various outcomes including the total of the dice, the specific numbers rolled, and the specific colors rolled. Like craps, players can leave their winning bets, or just parts of them, on the field to let their wagers ride.
The available bets are in the following table.
| | | |
| --- | --- | --- |
| BET | PAYS | DESCRIPTION |
| Cub | 1:1 | Sum of 3 to 19, except 13 is a push |
| King | 1:1 | Sum of 20 to 36, except 26 is a push |
| Odd | 1:1 | Sum is odd, except 13 is a push |
| Even | 1:1 | Sum is even, except 26 is a push |
| Single Color | 1:1 | A specified color appears exactly once |
| Double Color | 3:1 | A specified color appears exactly twice |
| Triple Color | 20:1 | A specified color appears on all three dice |
| Mixed Pride | 3:1 | Each color appears once |
| Full Pride | 5:1 | Any color appears on all three dice |
| Any Triple Number | 50:1 | The same number appears on all three dice |
| Straight | 15:1 | The numbers on all three dice are consecutive |
| Double Number | 20:1 | A specified number appears exactly twice |
| Any Double Number | 3:1 | Any number appears exactly twice |
| The Den | 1:1 or 2:1 | Pays 1:1 on a total of three dice of 8-14 or 25-31, Pays 2:1 on 3-7 and 32-36 |
| Aquarius | 26:1 | Total on all three dice between 3 to 8, inclusive |
| Pisces | 13:1 | Total on all three dice between 9 to 11, inclusive |
| Aries | 11:1 | Total on all three dice is 12 or 13 |
| Taurus | 8:1 | Total on all three dice is 14 or 15 |
| Gemini | 7:1 | Total on all three dice is 16 or 17 |
| Cancer | 6:1 | Total on all three dice is 18 or 19 |
| Leo | 6:1 | Total on all three dice is 20 or 21 |
| Virgo | 7:1 | Total on all three dice is 22 or 23 |
| Libra | 8:1 | Total on all three dice is 24 or 25 |
| Scorpio | 11:1 | Total on all three dice is 26 or 27 |
| Sagittarius | 13:1 | Total on all three dice between 28 to 30, inclusive |
| Capricorn | 26:1 | Total on all three dice between 31 to 36, inclusive |